Rinnai Water Heaters & Boilers
Rinnai Water Heaters and Boilers
At Custom Climates HVAC of Auburn New Hampshire, we understand the importance of having a reliable and efficient water heater in your home. That's why we recommend the Rinnai tankless water heater brand to our customers. Rinnai has been a leading brand in the tankless water heater industry for decades and has a reputation for producing high-quality, durable, and energy-efficient products.
One of the main reasons to choose a Rinnai tankless water heater is the endless hot water it provides. Unlike traditional tank-style water heaters,tankless water heaters will heat the water on demand, providing a continuous flow of hot water without the need to store it in a tank. This not only saves energy, but it also eliminates the risk of running out of hot water during peak usage times.
Another advantage of a Rinnai tankless water heater is its long lifespan. When properly maintained, Rinnai tankkless water heaters have a life expectancy of up to 20 years, compared to a traditional tank-style water heater that typically lasts 10-15 years. This means less frequent replacements and more savings in the long run.
What should I consider when selecting a new boiler or water heater?
In a boiler, heat is created by combusting fuel (most commonly propane, natural gas, or oil in New Hampshire) in a combustion chamber. That heat is then transferred to the water via a heat exchanger, and then the heat is distributed throughout the home via baseboards, hi-efficiency baseboards, radiant heat, hydronic coils, or even steam in some cases. Boilers are not one size fits all. The sizing and design of the delivery medium (i.e. baseboards, radiant) is very important in selecting a boiler. You may have heard about certain types of boilers like combination boilers, which we will discuss below, but they are not the right choice for every application.
Water heaters basically work the same way with heat transfer, the big difference is that the water heater transfers the heat into the domestic water that goes to your faucet instead of the water that travels to the baseboard. Here is a list of a few things deciding whether a proper boiler or a tankless water heater works for you:
Fuel Type
What is your existing fuel type? Is it propane, natural gas, or oil? Do you want to switch your fuel type and why? There are advantages and disadvantages to each, but the type of fuel helps narrow down the options.
Venting
Does it direct-vent through the wall or is it chimney-vented? Does it have to be chimney-vented if I have a chimney? What would be the difference in terms of heating my house?
Distribution
How is the hot water distributed throughout the house? Is it baseboard, hi-efficiency baseboard, radiant floor, hydronic coil, steam radiator? Is there a different product for baseboard vs high-efficiency baseboard?
How many delivery points for hot water are in your home? How much hot water is required for all of those delivery points?
Zones
How many zones do you have? How many circulators do you have or how many thermostats do you have? Is this adequate?
Hot water
Is your domestic hot water heated off of the boiler or a separate unit? If yes, is it direct-fired where the tankless boiler heats the water as you use it, with no tank. Is it indirect, where there is a storage tank that keeps a reserve warm all the time? Do you want to keep the set-up that you have now? Or look at alternatives?
These are just a few of the things we are analyzing when we make recommendations for boilers, as all can affect the efficiency of your boiler.
Rinnai is best known for their tankless water heaters. Custom Climates has been installing Rinnai tankless water heaters for over a decade and highly recommend them. Please keep reading for more information on the Rinnai tankless water heater line.
Have Questions?(603) 261-2488
Contact us to set up a visit to see what Rinnai product would be best for you, your family, and your home.
Why does Custom Climates carry the Rinnai line of products including tankless water heaters?
Over the years Custom Climates has installed many different boiler and water heater brands and still continues to offer several brands. When it comes to combination boilers and tankless water heaters, Rinnai is always our number one choice. Custom Climates is proud to be a Rinnai ACE Dealer (Advanced Comfort Expert). We have very successful tankless installations from houses to hotels, and highly recommend Rinnai products for your project. When it comes to selecting a combination boiler system or water heater, three things are key: comfort, reliability, and efficiency. You'll find all three with Rinnai products and the experts at Custom Climates. In our experience, Rinnai is the best value in the tankless industry. Rinnai has become the brand name that most people use when referring to tankless water heaters. Much like Kleenex or Clorox.
Rinnai products have Energy Star rated options, and with a 10 year warranty if it is installed by Custom Climates.  Rinnai is one of the best combinations of price and quality on the market today.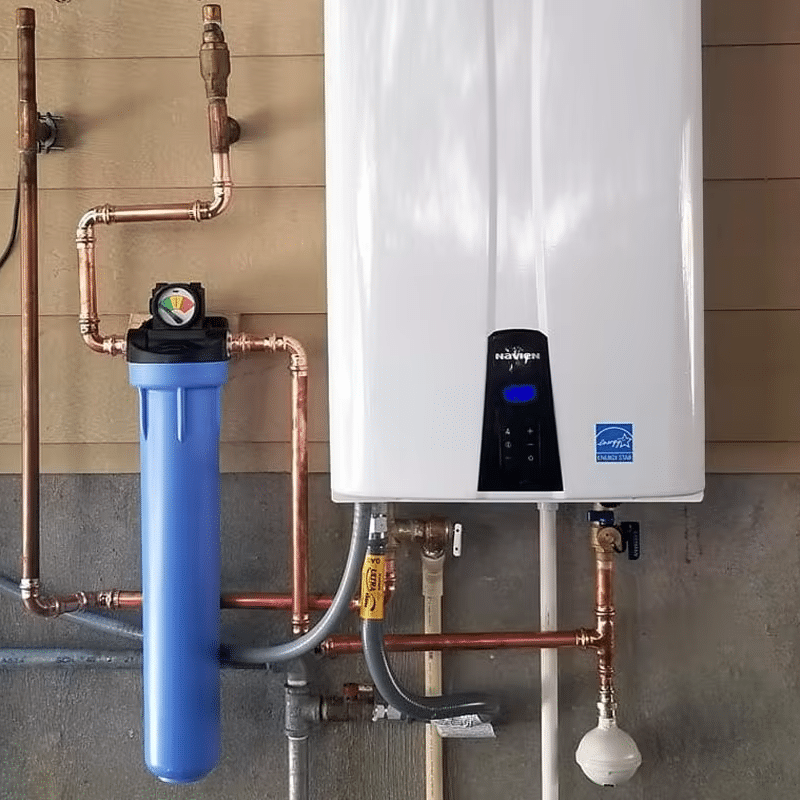 Get in Touch
Contact us to set up a visit to see what Rinnai product would be best for you, your family, and your home.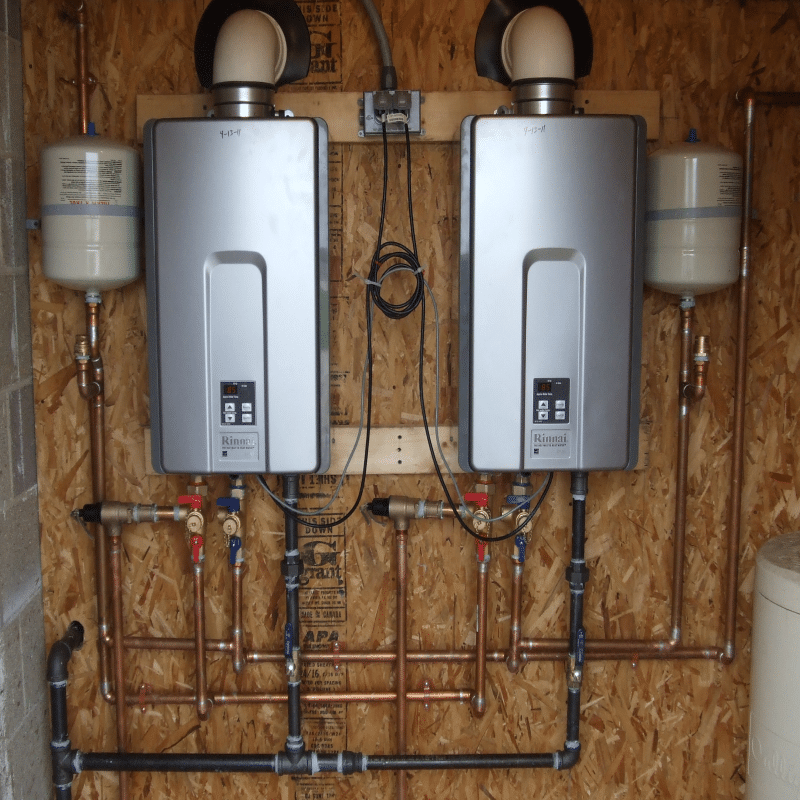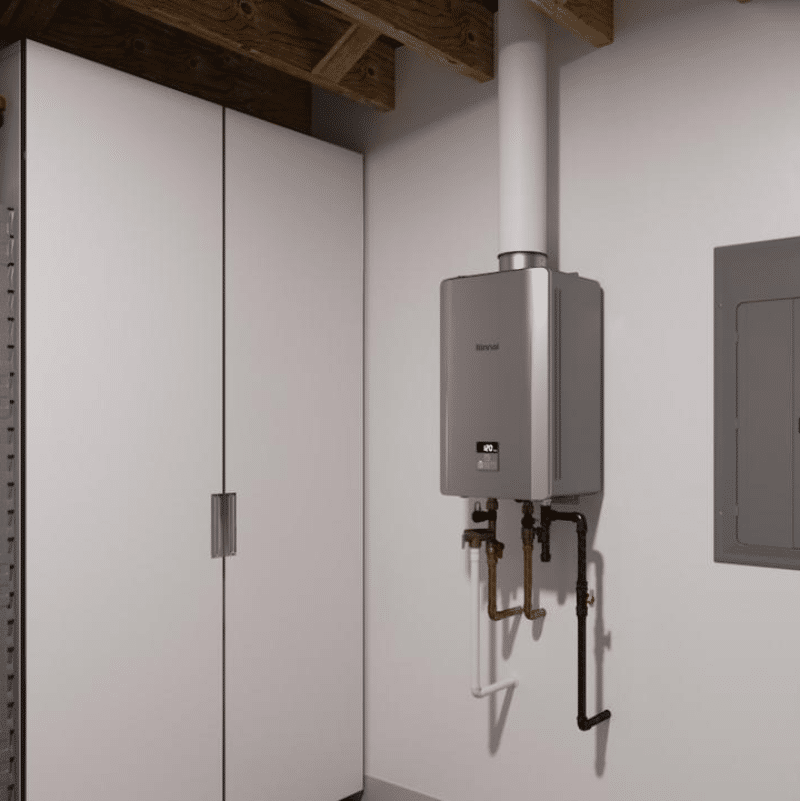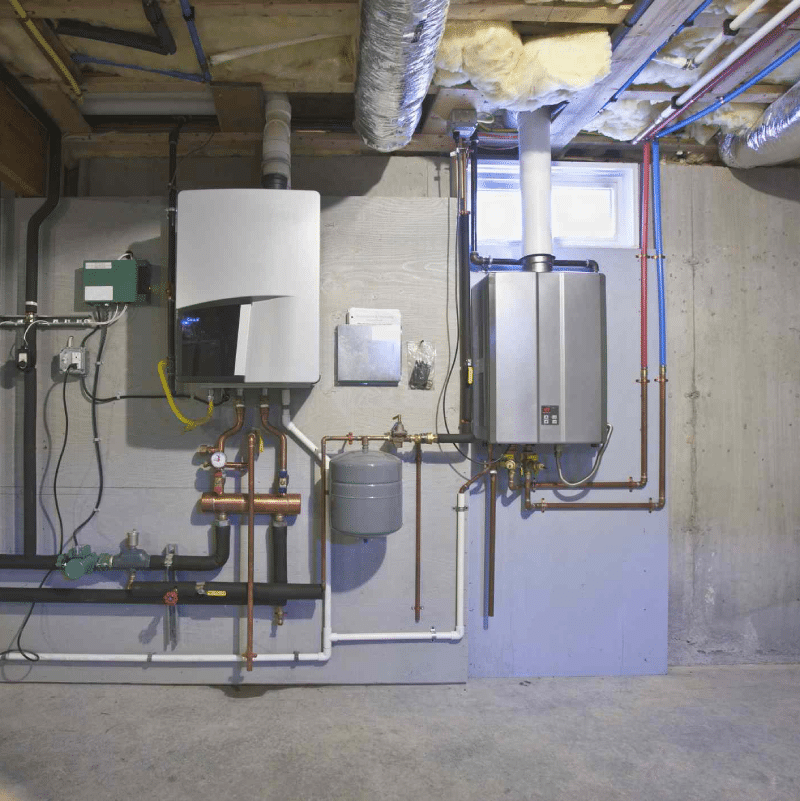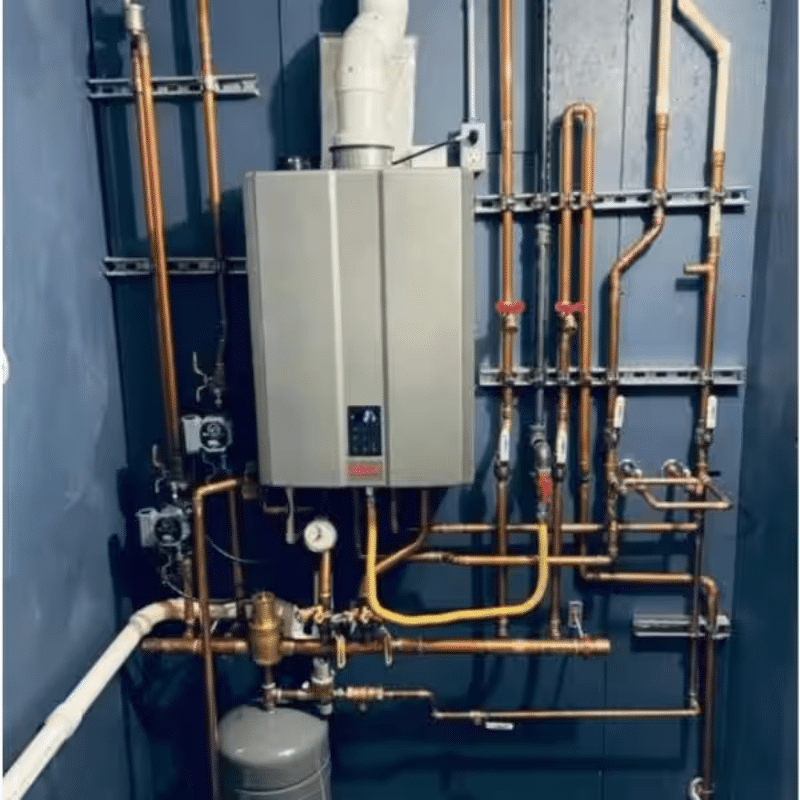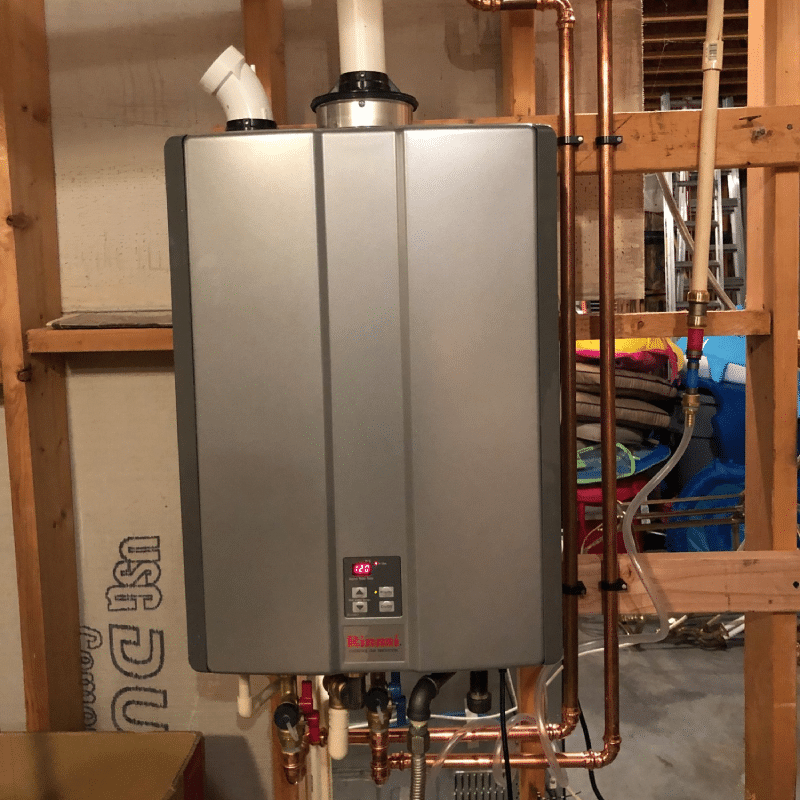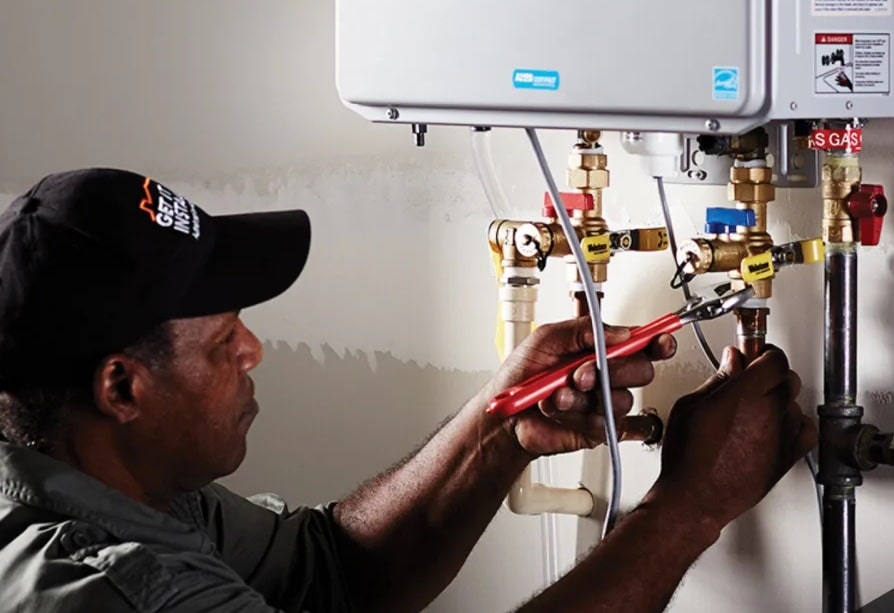 Get in Touch
Contact us to set up a visit to see what  would be best for you, your family, and your home.
What Rinnai product is right for me?
The selection of the right Rinnai is going to be based on the factors already discussed. A boiler will be selected based on the amount of BTU's that are required to heat the home. A water heater will be selected based on the amount of hot water that needs to be delivered and usually a worst case scenario (all appliances calling for hot water simultaneously) is considered. For boilers, Custom Climates will also consider how the delivery of the BTU's to the space is designed. In some cases, the amount of baseboard and how many BTU's that baseboard can supply to the space can surpass the output of the boiler or fall short.
The other items to consider when selecting a Rinnai product will be the add on items that may benefit your goals and investment. The energy savings, the type and model of the unit, and whether or not water quality would be a concern, are all items to consider. Custom Climates expertly designs and walks you through the process.
Why choose us?
 At Custom Climates HVAC, we have a team of experienced technicians who are trained and certified to install Rinnai tankless water heaters. We ensure that the installation process is done correctly and efficiently, ensuring that your new water heater is up and running as soon as possible. We also offer maintenance and repair services to ensure that your Rinnai tankless water heater stays in top condition for as long as possible.
If you're in the market for a new water heater, consider choosing a Rinnai tankless water heater. With its endless hot water and long lifespan, it's a smart investment for any homeowner. Trust us at Custom Climates HVAC of Auburn New Hampshire to install and maintain your new Rinnai tankless water heater. Contact us today for a free consultation and estimate.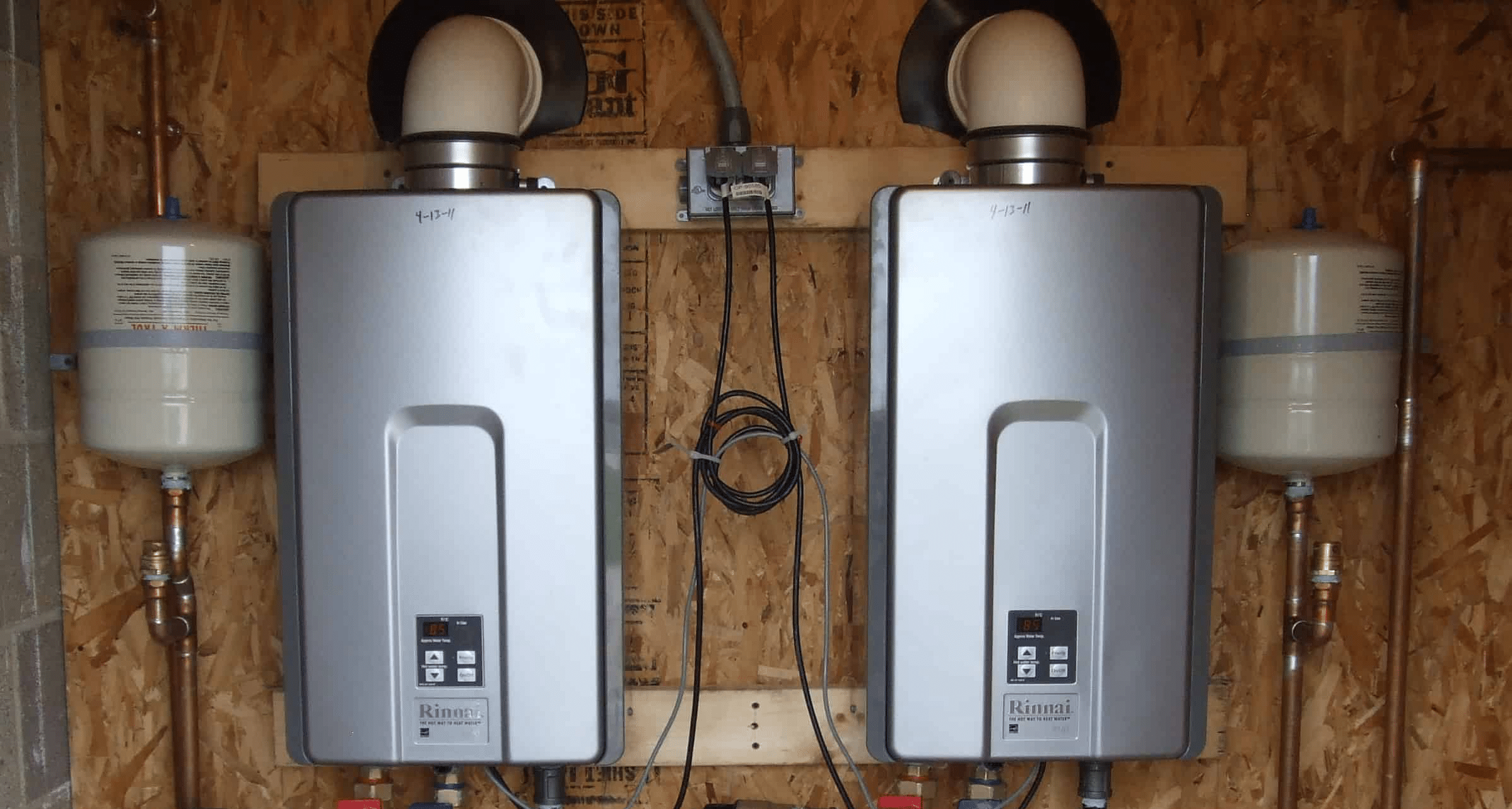 We offer a variety of HVAC products
Pensotti Boiler Systems
In a boiler, heat is created by combusting fuel (most commonly propane, natural gas, or oil in New Hampshire) in a combustion chamber.
Trane System
When selecting a new furnace and/or air conditioning unit there are a lot of factors to consider.  The first thing we should discuss is the…
Covers for Ductless
The easy answer is no.  These units are designed to be outdoors and they don't need to have a cover to protect them. However, the better answer