Heating and Cooling System Repairs
What does Custom Climates offer for Heating and Cooling System Repairs?
As a full service and complete heating and cooling company based in Southern New Hampshire, we are licensed and insured to repair all types of heating and cooling systems.  Although we do carry certain brands that we offer to people for new installations, our expertise in all things heating and cooling is paramount, and we are well known in the community for offering quality service with knowledgeable technicians.  In fact, our lead service technician Phil actually teaches HVAC classes at the Manchester School of Mechanical Trades.
What should I know when considering repairing a system?
Like any mechanical system, our heating and cooling equipment has many moving parts and often these parts can get worn down over time and fail.  It is important that we get our equipment maintained each year or as the manufacturer recommends.
Learn More About Heating and Cooling System Maintenance
As mechanical parts get worn and fail, they often can have a negative effect on other parts and pieces in the system as well.  So it is important to address any issues or concerns in your system promptly.  During a Custom Climates HVAC repair visit, we make sure to thoroughly inspect all parts of your heating and/or cooling system to determine if there are any other items that may be of concern in the near future.  Any good technician or service company should perform the same.  It is a requirement by ASHRAE standards to conduct a recommissioning and safety check prior to the completion of a service/repair visit.  This recommissioning and safety check will be performed after replacing/repairing any parts in the system.  It ensures that there is no other part in the system that could potentially fail or cause a safety issue after the technician leaves the home.
For example, if the technician diagnoses that there is an issue with the gas valve and he replaces that part, the system may start right up and deliver heat again.  However, if no recommissioning and safety check was performed, perhaps the technician would have missed a faulty vent pipe or flame rollout switch that could put everyone's life in jeopardy were he to just get a check for the repair and walk out the door.
These extra steps and precautions are one part of what makes the quality of service from Custom Climates the best you can receive in a New Hampshire HVAC company.
Should I repair or replace my equipment?
Our technicians have been through extensive training to be able to not only identify and repair failed equipment, but they have also been trained on how to keep the customer's best interest in mind.  One part of that training is being able to help a customer determine whether it is a better investment to repair or in some cases replace the equipment.
The lifespan of most HVAC equipment is between 13-17 years.  Some equipment can certainly last longer than this depending much on the brand, maintenance efforts, and design parameters for the home, but the average is 13-17.  If a customer of ours has a piece of equipment that is 11 years old and it has a major failure such as a blower motor and wheel, the repair could be 20% the cost of replacing the unit.  If you repair it, it will still be an 11-year-old system.  So in many cases the cost of the repair would actually be better spent on a new unit with better technology for better efficiencies.  This investment of the repair cost plus the savings from efficiency gains often makes getting a new unit a much better decision in the long run.  Of course, we never try to push our customers in one direction or another unless safety is an issue.  We understand that every household has different circumstances, goals, and budgets.  But we want to be sure to always offer the information, because a large part of what our customers pay for is our knowledge and experience, along with having the right tools and credentials.
What are the signs that my system needs repairing?
The obvious answer is when it no longer provides heating or cooling for you, but there are other things to consider as well.  Listen to the way the system runs.  Is it louder than it used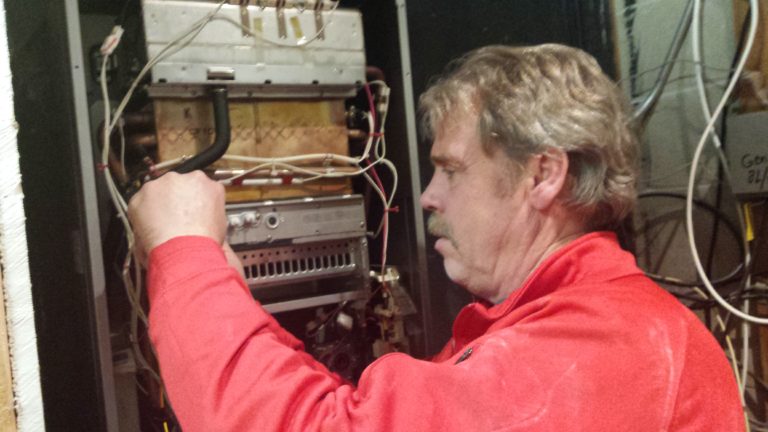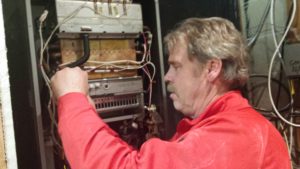 to be?  Do you hear clicking, banging, whirring, or other strange noises you never noticed before?  Have your utility bills seemed to be climbing or much higher than what you consider normal?  HVAC systems often do fail and stop working and it is obvious.  But there are often signs leading up to that failure that you can catch before it is a failure.  If the equipment fails suddenly, the odds that it will be during a convenient time is highly unlikely.  You are likely to notice a failure when you are home.  So that in itself could limit you to outside of normal business hours if you work outside of your home during the day.  It is also likely that the extreme day when it comes to weather can also impact when your system fails.  So on the coldest day of the year, in the middle of the night when your system is running the most, it could be a very likely time for a system to fail.  Being in that position puts you in an emergency situation.  The problem with emergencies is that it limits your decision making because you can't do adequate research to consider replacement options, nor can you wait and schedule out the repair for when it is convenient for your service company in order to save some money on the invoice.
We highly recommend paying some attention to your heating or cooling system to try to prevent those emergencies.  Addressing issues beforehand can prevent an expensive repair of parts that may not have failed had they been found earlier.  If you suspect there may be something wrong with your equipment, give us a call to set up a visit.