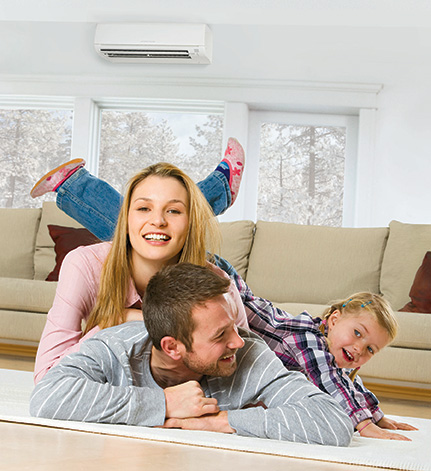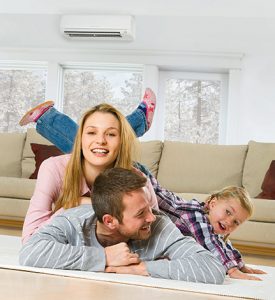 Our homes should be an oasis of comfort from season to season. When your HVAC system is underperforming but you don't have room for ductwork, what options are available? A ductless heat pump mini split installation is the cutting-edge solution for cooling and heating problems. Custom Climates HVAC is an Elite Diamond Contractor for Mitsubishi Electric, the industry leaders in mini split heat pump and ductless technology.
How Ductless Mini-Splits Work
Ductless heating and cooling units are ideal for new construction homes or additions where ductwork installation is not possible or practical. These systems have three basic components: An indoor unit, an outdoor unit, and remote control. Our technicians can discreetly mount the units, run and connect refrigerant lines, and address other electrical connections in a fraction of the time it takes to install central air. An Indoor mini split heat pump and cooling system is not restricted to wall units; we also have a variety of recessed ceiling cassettes, floor models, and minimal ducting units.
With a multi-zone cooling and heat pump installation, each living space has its own air-handling unit and wired or wireless electronic temperature controller. We can connect up to 8 indoor units to one outdoor condensing unit! Single-zone applications are also available to provide year-round comfort control in one dedicated room.
Benefits of Ductless Heating and Cooling
Go Mitsubishi by Custom Climates HVAC has a heat pump and cooling system to suit every customer's needs. Sized and installed following the strictest industry guidelines, there are many benefits of ductless for your home, including:
Quiet Operation
Energy-Efficiency
Attractive Design
Constant Comfort
Better Air Quality
Convenient Control
Installation units come with the Mitsubishi Electric 12 and 12 warranty – 12 years for the parts and compressor. Custom Climates HVAC also offers an optional 12-year extended labor warranty.
Where to Install Ductless Mini-Splits
It is common for homes of all ages to not have central A/C or space for ductwork. Ductless mini-splits are the perfect solution for improved comfort levels. These heating and cooling units work great in many areas, including:
Room Additions
Enclosed Patios
Bonus Rooms
Finished Basements
Home Offices
Bedrooms
The indoor air-handling units for ductless mini-split air conditioners and heat pumps installation can be wall-mounted, floor-mounted, or ceiling recessed for widespread air distribution.
Why Choose Custom Climates HVAC for Ductless Heat Pump Installation
Are you tired of dealing with inconsistencies in your home's heating and cooling? Looking for a reliable and efficient approach to keep your home at a comfortable temperature all year? Ductless heat pump installation is your resolution! Custom Climates HVAC is the place to go for this service. We understand the frustration that comes with the malfunctioning symptoms you face. We provide top-of-the-line ductless heat pump systems that are suited to your requirements and ensure maximum comfort and energy efficiency.
Discover why Custom Climates HVAC is the ultimate solution for all your ductless heat pump installation requirements by continuing to read further. 
1. Experience And Expertise:
We take pleasure in having highly qualified and skilled experts in the market at Custom Climates HVAC. Our team of experts has years of experience installing ductless heat pumps and is constantly trained on the latest technologies and procedures. This ensures that our customers receive the best possible service and the most efficient heating and cooling solutions.
2. Quality of Work:
Custom Climates HVAC realizes that each residential and commercial infrastructure has different heating and cooling needs, which is why we provide customized solutions for ductless heat pump systems. Our knowledgeable technicians examine each home and propose relevant heat pump systems for maximum efficiency and comfort in your budget. To fulfil our customers' individual demands, we also provide a variety of customizable features such as zoning options and remote control access.
Common Questions About Ductless Split System
How many indoor units can be connected to one outdoor unit?
The number of indoor units depends on factors like the number & size of the indoor units,  the size & capacity of the outdoor unit, and the layout of the building. Generally, a single outdoor unit can support up to four indoor units.
How efficient is a ductless mini-split system?
Ductless mini-split heat pumps are highly efficient due to their design, which allows them to deliver sufficient heating and cooling without the energy losses associated with ducting. Mini-splits use inverter-driven compressors and variable-speed fans, allowing them to adjust their output to match the exact needs of the space. 
All of these factors make ductless mini-splits one of the most efficient heating and cooling options.
Can a ductless mini split system be used for both heating and cooling?
Yes, a ductless mini split heat pump installation works for both heating and cooling because they are designed to be reversible, which means can switch between heating and cooling modes depending on the season. The system works by absorbing heat from the outdoor air and transferring it indoors during the winter, and removing heat from the indoor air and releasing it outdoors during the summer. This makes ductless mini-split systems a versatile and efficient HVAC solution for year-round comfort.
What is the lifespan of a ductless mini-split system?
It depends on factors such as how well it's taken care of and how often it's used. With the right care, it can last up to 20 years or even more.
How often does a ductless mini-split system need maintenance?
A professional technician should maintain these mini-split systems at least once a year. Cleaning the filters, coils and checking the level of refrigerant regularly can help the system work better and last longer.
Can a ductless mini-split system be installed in an existing home?
Yes, this system can be installed in an existing home as it requires minimal modifications to the building structure. You can get efficient heating and cooling without intrusive ducting installations. 
How much does a ductless mini split system cost to install?
The price to install a ductless mini-split system varies depending on the size of the unit, installation complexity, and location.
For the ultimate in-home comfort, choose a Mitsubishi ductless mini-split system.
Contact Custom Climates HVAC to schedule an in-home consultation today!