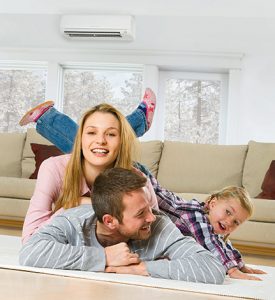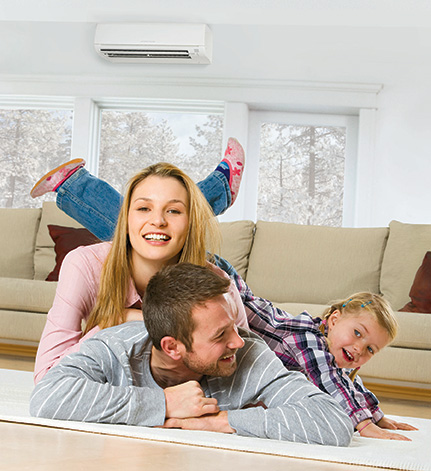 Our homes should be an oasis of comfort from season to season. When your HVAC system is underperforming but you don't have room for ductwork, what options are available? A ductless air conditioner or heat pump mini split installation is the cutting-edge solution for cooling and heating problems. Custom Climates HVAC is an Elite Diamond Contractor for Mitsubishi Electric, the industry leaders in mini split heat pump and ductless technology.
How Ductless Mini-Splits Work
Ductless heating and cooling units are ideal for new construction homes or additions where ductwork installation is not possible or practical. These systems have three basic components: An indoor unit, an outdoor unit, and remote control. Our technicians can discreetly mount the units, run and connect refrigerant lines, and address other electrical connections in a fraction of the time it takes to install central air. An Indoor mini split heat pump and cooling system is not restricted to wall units; we also have a variety of recessed ceiling cassettes, floor models, and minimal ducting units.
With a multi-zone cooling and heat pump installation, each living space has its own air-handling unit and wired or wireless electronic temperature controller. We can connect up to 8 indoor units to one outdoor condensing unit! Single-zone applications are also available to provide year-round comfort control in one dedicated room.
Benefits of Ductless Heating and Cooling
Go Mitsubishi by Custom Climates HVAC has a heat pump and cooling system to suit every customer's needs. Sized and installed following the strictest industry guidelines, there are many benefits of ductless for your home, including:
Quiet Operation
Energy-Efficiency
Attractive Design
Constant Comfort
Better Air Quality
Convenient Control
Installation units come with the Mitsubishi Electric 12 and 12 warranty – 12 years for the parts and compressor. Custom Climates HVAC also offers an optional 12-year extended labor warranty.
Where to Install Ductless Mini-Splits
It is common for homes of all ages to not have central A/C or space for ductwork. Ductless mini-splits are the perfect solution for improved comfort levels. These heating and cooling units work great in many areas, including:
Room Additions
Enclosed Patios
Bonus Rooms
Finished Basements
Home Offices
Bedrooms
The indoor air-handling units for ductless mini-split air conditioners and heat pumps installation can be wall-mounted, floor-mounted, or ceiling recessed for widespread air distribution.
For the ultimate in-home comfort, choose a Mitsubishi ductless mini-split system.
Contact Custom Climates HVAC to schedule an in-home consultation today!